Curve/Aave Whale Games and Bad Debt
Daily Bullets: Tuesday, November 22nd
All eyes still remain on Genesis/DCG/Grayscale as we await to find out whether another big name will go bust and what the effect will be on the market. Could be bad...

Also, we have whale games being played around Curve and Aave by Avraham Eisenberg, the Mango Markets exploiter. He's been busy working on a new "highly profitable trading strategy" shorting $50M worth of Curve and may cause Aave to end up with bad debt, however the full intent of his plan is still uncertain.

A detailed explanation of Curve/Aave scheme can be found here

Most recently, it appears that Curve is undergoing a short squeeze. Hit as low as .40 cents before spiking

Bitcoin has also made a new 2 year low while ETH hangs precariously at the $1000 level. Fun times.
Before we get started… Sharing is caring and knowledge is power! Do you find this newsletter helpful? Then be a Chad or Chadette and share this newsletter with your friends and colleagues 
Daily Bullets: 
Genesis faces possible bankruptcy without funding, Binance decided not to bail them out, Genesis lowered target from $1B to $500M, says they have no imminent plans to file bankruptcy 

FTX Group has $1.2B in cash, $514M unrestricted cash, owes $3.1B to top 50 creditors; the liquidity gap is about $8B

Avraham Eisenberg in progress trading strategy - borrowed 83M CRV tokens from Aave to short 

Curve releases whitepaper and official code for its stablecoin - crvUSD

Tornado Cash developer Alexey Pertsev to remain in jail until at least late February

Ark Invest purchased another 176,945 shares ($1.4M) in Grayscale's Bitcoin Trust (GBTC) fund

Magic Eden has added support for NFTs on the Polygon network

Grand Theft Auto has followed Minecraft in banning NFTs from its third-party online servers
Now for a more expanded and detailed look at the day…
---
Crypto News: 
Genesis faces possible bankruptcy without funding. Binance decided not to bail out Genesis, fearful that its business could create a conflict of interest down the line. Genesis also has lowered target from $1B to $500M and says they have  no plans to file bankruptcy imminently
Bitcoin Miners have been selling at the most aggressive rate in almost seven years, with a 400% increase in selling pressure over the last three weeks. Several Bitcoin miners could go out of business if the value does not rise soon
Core Scientific Inc., the largest US publicly-traded Bitcoin mining company in terms of computing power, lost $1.7B in the first 9 months of this year. Substantial doubt that it could keep operations going past November 2023
Ark Invest, the investment firm led by Cathie Wood, has purchased another 176,945 shares worth about $1.4M in Grayscale's Bitcoin Trust (GBTC) fund
FalconX, the crypto prime broker, resumed use of Silvergate's payment network after pressing pause on the partnership last week
Avalanche releases second SDK for building Avalanche Virtual Machines, the Rust SDK
An information-stealing Google Chrome browser extension named 'VenomSoftX'  is being deployed by Windows malware to steal cryptocurrency and clipboard contents
Binance Pool launches Cloud Mining service, which allows users who do not have access to mining equipment to earn mining rewards from Binance Pool
Economic/Government/Regulatory:
​​The two founders of the now-defunct Bitcoin cloud miner HashFlare have been arrested in Estonia over their alleged involvement in a $575M crypto fraud conspiracy
Exchange News:
Court documents show that FTX Group has $1.2B in cash, about $514M is unrestricted cash and owes $3.1B to the top 50 creditors; the liquidity gap is about $8B
FTX is responsible for all costs associated with the digital wallet that holds FTX Digital Markets' assets and is being kept under the supervision of The Securities Commission of The Bahamas
Gemini working with Genesis and Digital Currency Group to find a solution that will allow users to redeem their funds from the crypto exchange's Earn product
Huobi launches refreshed brand, unveils post-acquisition global expansion roadmap
FTX Japan is developing a workaround to allow customers to retrieve their funds by December 
Binance has been meeting with investors in Abu Dhabi seeking cash for the exchange's crypto recovery fund
CoinMarketCap, a subsidiary of Binance, launched the exchange reserve data function
Coinbase shares fell to a record low under $42 due to the negative impact on user confidence in centralized exchanges 
At least 19 properties worth around $121M were reportedly purchased under FTX's name, Sam Bankman-Fried's parents and senior-level executives
Investment platform Bitpanda has been granted a crypto trading and custody license in Germany
DeFi News:
A trader (Avraham Eisenberg) borrowed 70M CRV tokens from Aave and sold the majority of them in an effort to short the token's price
Curve releases whitepaper and official code for its stablecoin - crvUSD will rely on a algorithm called Lending-Liquidating AMM (LLAMMA)
​​Uniswap Labs Contracts Bug Bounty - Rewards will be allocated based on the severity of the bug disclosed and evaluated for rewards up to 3,000,000 USDC
NFT/Gaming/Metaverse News:
Magic Eden has added support for NFTs on the Polygon network
Grand Theft Auto has followed Minecraft in banning NFTs from its third-party online servers. MyMetaverse runs games on GTA 5 that integrates NFTs in the form of cars and swords
The Sandbox is kicking off its three-part LAND sale on Thursday in collaboration with popular brands like Tony Hawk, Snoop Dog, and Playboy, among others
Global toy company Mattel has launched its own NFT marketplace on Mattel Creations, the company's direct-to-consumer platform with Hot Wheels collection
Crypto custodian Aegis Trust offers $25M insurance policy for institutional investors' NFTs
Fundraises: 
Foresight Ventures, a crypto fund with $400M in assets under management (AUM), is launching a $10M incubator program called Foresight X

Web3 and VR gaming studio, Thirdverse, making a blockchain game based on the popular 80s football manga Captain Tsubasa raised $15M in its latest funding round. MZ Web3 Fund led the round with participation from Dash Ventures, OKX Ventures and Yield Guild Games
Crypto privacy startup Nucleo raised $4M in seed funding to create a private multi-sig solution for organizations to transact on the Ethereum blockchain through zero-knowledge cryptography. Led by Bain Capital Crypto and 6th Man Ventures with participation from Aztec Network, Aleo, and Espresso Systems
NFT utility platform Tropee, which helps brands easily create user experiences out of their collections, raised a $5.1M seed investment led by European web3 firm Tioga Capital. Crypto founders such as The Sandbox's Sébastien Borget, Exclusible's Thibault Launay, Geometry's Grégoire le Jeune, and Lorens Huculak, founder of the Gem, also participated
​​DEFYCA raises $1.3M in seed funding to build the next generation of decentralized capital markets led by QBN Capital and Blizzard Fund
Vezgo Closes $750k in oversubscribed pre-seed round to accelerate growth and development of new features for leading crypto data API
Early Stage Projects:
Canto live on Synapse - the 18th chain interconnected by Synapse's cross-chain messaging system and the protocol's first entry into the Cosmos ecosystem
Spin will have an airdrop for it's early adopters 
Introducing SteakHut Liquidity: Avalanche's liquidity layer. A protocol to automate and optimize concentrated liquidity on The Liquidity Book
Skip Protocol live  on EVMOS - allows traders to bid for top-of-block execution, redirecting profit from MEV back to the community 
Coherent is live - building the most comprehensive set of human-readable, opinionated APIs
What's your take on today's news? Anything interesting that you have to say about these stories? Did we miss anything that should've been included?
Data: 
TL;DR: On-chain speculation over what the Mango Markets exploiter is up to with his Curve position borrowed from AAVE
Avraham Eisenberg's wallet address is: 0x57e04786e231af3343562c062e0d058f25dace9e and we can see that he currently has ~ $58M USDC supplied on Aave and about $50M of CRV borrowed. His endgame is still unknown - whether he's trying to actually short CRV or AAVE itself by leaving AAVE with bad debt or hedging on a CEX. 
What is the Data telling you? See anything that sticks out to you?
Research/Reads:
NEAR Transparency Report: the State of Staking - source
FTX and Alameda Research lost $3.7B before 2022 - source
Polynya - Sustainability - source
The Merge series (part 3): MEV landscape - source
Expanding Uniswap's Addressable Market - source
Internal rollups and Fractal sidechains - source
Have you seen our institutional-quality research?
Crypto Twitterverse: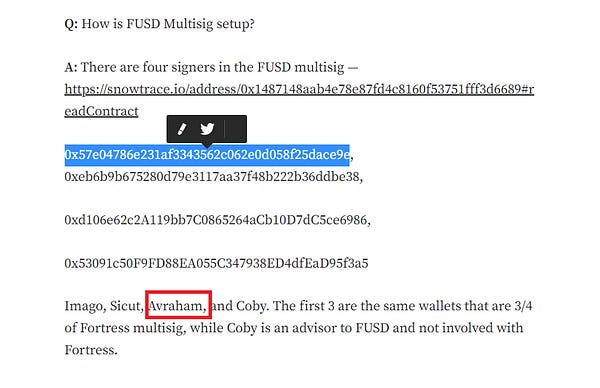 Value Kingdom
@valuekingdom33
9/ @avi_eisen is in full control of everything. He is the deployer and owner of both FUSD and Fort contracts. The legality of his actions is questionable at best and full control implies full responsibility Pretty ignorant activities for a doxed US/NY resident, if you ask me
---
Did we miss anything or is there anything you want to discuss? We'd Love to hear your feedback and engage with the community! Feel free to leave a comment and let us know your thoughts on the Crypto market!
Subscribe to receive our brief daily and extended weekly newsletter along with in-house research content!
Please Share, Leave Feedback, and Follow us on Twitter, Telegram, and LinkedIn to stay connected with us.